Amazing! 10 Ways To Cover Concrete Walls In A Basement
Information about 10 Ways To Cover Concrete Walls In A Basement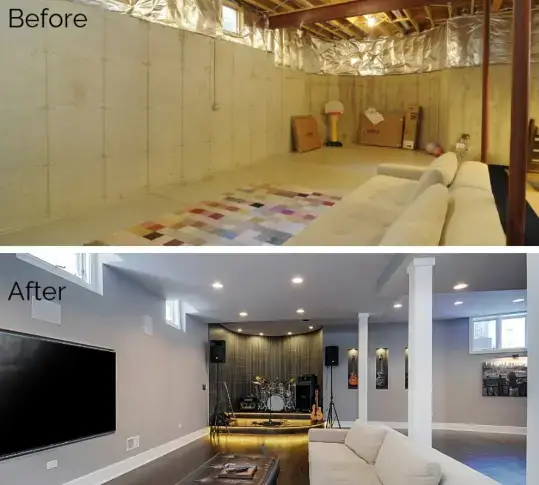 You want to finish your basement but can't decide how to clad the concrete walls.
Most concrete or log walls in a basement are lined with drywall BUT there are many other very good options such as tile, veneer, siding, imitation brick, paint and a few more.
I'll show you how to finish your basement walls with 10 really cool examples below.
Do this before finishing your basement walls
Regardless of how you cover your concrete walls, you should check for moisture and seal the concrete.
Moisture seeping through the concrete or blocks can cause mold or damage regardless of the type of cover you choose.
You should also repair any cracks in the concrete foundation to ensure water does not seep into your newly completed basement.
See how to waterproof a basement here.
Learn how to repair cracks in foundation walls here.
You may need to install a frame to cover your basement walls
In most basements, installing frames in the concrete walls is the best way to "close off" the basement.
The frame allows for insulation, attachment of drywall, wood, paneling and other finishes.
You can also use it to build different rooms, closets and storage space.
With no frame, all electrics have to be routed overhead, so no wall outlets unless you use conduit.
1. Using drywall and paint to cover concrete walls
When you finish your basement walls with drywall and then paint them, you have many color and design options.
After the framing and electrics are done, the drywall is hung, glued, plastered, and sanded. Now you are ready to paint!
Installing framing and drywall may or may not be a DIY project. It's a lot of work and depends on how handy you are.
2. Painting the concrete or block wall
Painting the concrete or cinder blocks is the easiest and cheapest way to clad the walls.
It's not fancy, but it cleans up the walls a lot. This is much more DIY friendly and takes a lot less time than all other methods.
Here are a few concrete wall paint products you can use:
1. TuffCrete concrete stain paint
2. Kilz basement and masonry waterproofing paint
3. Kilz masonry, stucco and brick paint
3. Brick veneer panels for basement walls
Try using these Self-adhesive brick veneer wall tiles to finish off your basement walls.
You peel and stick them on the walls. They can be cropped to fit around objects if needed.
These come in packs of 10 and cover approximately 60 square feet per pack.
4. Cover your walls with real barnboards
These REAL barn boards were removed from an old barn that fell.
The boards have been sanded and stained to give them that rustic look.
The basement walls were framed as if using drywall, then the boards were nailed to the 2×4's.
This is a great way to cover any type of basement wall!
5. Combination of weathered wood and painted drywall
This basement has been framed and insulated. Then drywall was used for most of the walls.
A weathered wood accent wall was used to give the space a warm feel and break up some of the bright white painted look.
You can use pine boards for this type of look. Stain them and seal them with polyurethane before setting them up.
6. Use wallpaper to finish off your basement walls
Using wallpaper to dress up your basement walls is pretty easy. You'll need to have the basement framed and drywalled first.
Wallpaper can be something you hire someone else to do unless you are a handyman. The good thing about wallpaper is the unlimited choice of designs and colors.
Most wallpapers are peel and stick which you can cut and assemble yourself.
7. Ceramic tiles to finish off your basement walls
A great way to dress up your concrete walls is with ceramic tiles.
Tiles come in all shapes, sizes and colors. They are great for bathrooms and kitchens.
These shower walls and floor were covered in tile in this basement remodeling project.
8. Use 3D wall panels to finish concrete walls in a basement
These 3D wall panels are lightweight and fireproof. They come in many different shapes and colors.
They are installed with a heavy duty construction adhesive and can be cut to any size wall.
You can buy them in a pack of 12 covering 32 square feet per pack.
9. Cover your walls with wood paneling and cabinets
Using a combination of wood paneling, shiplap paneling, and wood cabinets is another way to clad your basement walls.
Finishing your basement this way gives you several design options. The dark and light colors give this room a great contrast.
10. Put up a full size mural to cover your walls
This Peel and stick photo wallpaper come in all sorts of designs to choose from.
Sizes range from 5′ x 8′ to 8′ x 12′ and can be cut to fit almost any wall size.
They are pre-cut into smaller pieces for ease of installation. Peel and stick to the wall, they are also easy to remove and replace if you want a different look.
11. What is the cheapest way to cover concrete walls? (Bonus)
Most likely the cheapest way to cover your concrete walls is to use a plaster mix.
Parging Mix is ​​a pre-mixed, ready-to-use cement mix that adheres directly to concrete walls and cement blocks.
It can be applied smooth or imitation with a trowel. A Parge mix also covers defects, holes and gouges in your concrete walls.
If you want, it can then be painted any color you want.
Sakrete has a parging mix that you can buy at most hardware stores.
12. Consider a "complete" basement finishing system (walls and ceiling) as a double bonus!
You may want to consider installing a complete basement wall and ceiling cladding system like that from Owens Corning.
The wall panels are removable to allow access to electricity and water, and they are also mold and mildew resistant.
This is a much better option for wet basements. The wall panels can even be painted!
---
FINALLY:
You really have a lot of options when it comes to dressing up your basement walls.
The 10 (really 12) ways I mentioned above are all good, some easier to do than others.
Some are more permanent than others, so keep that in mind when making your decision.
Much luck!
---
Breaking Story – 10 Ways To Cover Concrete Walls In A Basement
The Latest News on 10 Ways To Cover Concrete Walls In A Basement
Original Source: https://www.everything-about-concrete.com/how-to-cover-concrete-walls-in-a-basement.html
Category – Concrete